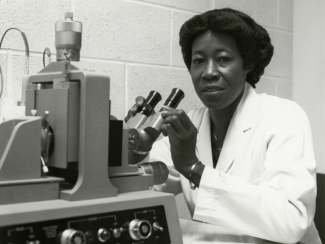 October 31, 2020
Shaking with nervousness and excitement, Betty Harris pushed open the door to the college classroom. Only 16, she was clearly the youngest in the room. Her love of math had gotten her here, but would that be enough to succeed?
All her life, white teachers glared at her when she answered questions correctly. Even some family members wanted her to be quiet! "You always got something to say" and "You think you're so smart?" were constant refrains that outspoken Black girls heard.
But she'd always ignored their snide comments. She made clear what she wanted – math books!
College was finally different – her professors, all Black, ENCOURAGED her to be excellent. Her self-determination had gotten her to college, and now she was ready! What happened to this brilliant Black girl?
She started a summer camp for students, worked with the Girl Scouts, and vowed to bring more Black girls into the STEM field.
Never tell Black girls they can't be smart or shouldn't speak their minds! How are you empowering Black girls and women to help us determine our own fates despite oppression that tells us we can't excel and achieve?