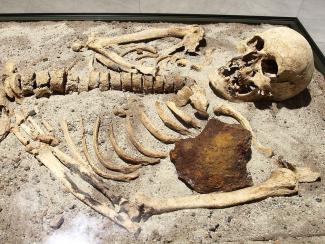 January 19, 2021
Fortune was a Black man enslaved by Dr. Preserved Porter in Waterbury, Connecticut during the late 18th century. Fortune and his family were held in captivity on a farm owned by Dr. Porter. Fortune operated the farm, while Porter tended to his medical practice.
Shortly after Fortune's death, his children were sold off – and instead of performing a proper burial, Porter stripped Fortune's skin and boiled his bones to keep his skeleton for anatomic study!
Porter is believed to have opened an anatomy school in Waterbury, where he invited other bone surgeons to study Fortune's skeleton.
Fortune's skeleton was passed down in the Porter family for generations before it was donated to the Mattatuck Museum in Waterbury. It remained there as an exhibit named "Larry" until the 1970s, when it was put into storage.
It was only in the 1990s, when the museum started a project to examine the skeleton, that the researchers learned that the skeleton referred to as "Larry" was the remains of Porter's former slave, Fortune.
In 2013, over 200 years after his death, Fortune was finally given a proper burial. 
A dedication service took place in St. John's Episcopal Church in Waterbury, the same church at which he allegedly got baptized in the 1790s.
Unfortunately, Fortune's story is not unique. White doctors have a long, disturbing history of using Black people as unwilling medical specimens.
The roots of medical racism in this country run deep – as Black people disproportionately perish from COVID-19, we see how the struggle continues daily. To learn more about how you might be affected, listen to the Black History Year podcast's recent episode, "What You Need To Know About Medical Racism with Harriet Washington."