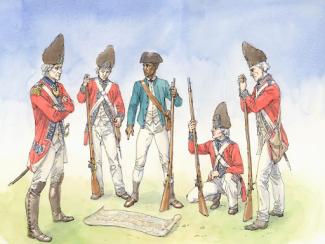 September 21, 2023
The war for American Independence was a game of control when it came to our people. The colonies and the British used enslaved people as their political and military pawns in their dispute, leaving enslaved Black people to chart their own path to freedom.
The Continental Army, led by George Washington, was fearful about the prospect of arming enslaved people because they believed weapons would encourage slave revolts in the south. The British took advantage of this fear and chose to actively recruit enslaved people into their ranks.
Over 20,000 runaways joined the British Army, which marked the largest exodus of enslaved Black people in North America before the Civil War. The British Army established itself as a sanctuary for enslaved people by issuing proclamations promising liberty to runaways. Many were offered freedom in exchange for their service.
Even though many used the British as a means of obtaining freedom, not every enslaved person wanted freedom from their oppressors. The war created Black American loyalists who were loyal to Great Britain and ultimately disapproved of their colonial master's decision to revolt.
Enslaved people took the political moment of the American Revolution to create agency for themselves amidst chaos. When it comes to liberation, not all of us will agree or want change, but we all have a choice in determining what freedom means to us.