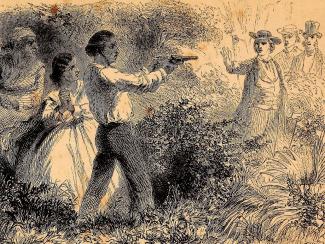 November 22, 2019
On November 8th and 9th, 2019, hundreds of Black Americans, dressed in period clothing and carrying clubs and guns, took over a plantation and killed the slave master running it.
It was all just a performance, recreating an 1811 slave uprising. But the visual is still arresting. "It brings you back to that trauma," said one participant.
The performance, including a 26-mile march from LaPlace, LA to New Orleans 200 years after the original uprising, was intended to spread truth and inspiration. That's especially important when damaging myths about slavery, like that slaves were "happy," abound.
The revisiting of uprisings like this one and others debunks that falsehood.
Dread Scott is the artist behind the performance, which took six years to organize. He views his art as a means to "propel history forward." He views "leaders of slave revolts as heroes," and sees police "as successors to lynch mob terror."
Back in 1811, all 500 rebels were killed. Though the rebellion was the largest slave uprising in American history, it has largely been erased from history.
With artists like Scott, and an engaged Black community committed to Black history and Black liberation willing to spread the truth, it won't have been in vain.