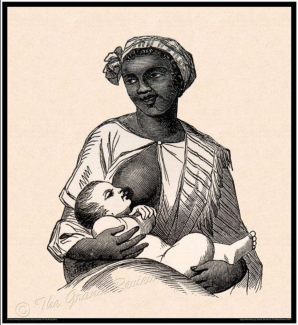 August 2, 2019
During slavery, endless atrocities were enacted against enslaved Black people. From rape to senseless beatings, treating our ancestors like worthless scraps was part of the daily grind.
Another gross atrocity? Forcing enslaved Black mothers to wet nurse.
In 18th century Europe, it was trendy for white mothers to hire others to breastfeed, as many perceived breastfeeding to be uncouth - a poor woman's game. It didn't help that medical experts of the day also perpetuated the myth that breastfeeding wasn't healthy for mothers. 
When the trend reached America, enslaved Black women were forced to do the degrading job - at the expense of their own children.
Soon after enslaved Black mothers gave birth, their babies were snatched from their arms, replaced with their mistress' infant. Forced to give away their milk to white babies meant their own were left to die. And many did.
In desperation, some mothers fed babies mixtures of cow's milk and dirty water. Death still came.
Families were devastated. Husbands often resented their wives for newborns' deaths. But women who refused were milked like cows… or worse.
The vestiges of forced wet nursing lurk within our community. According to midwife and researcher Stephanie-Devane Johnson, some Black mothers sill reject breastfeeding, despite its benefits, because of this devastating history.
The cruelty of slavery and wet nursing lingers. And continues to impact - and even kill us - today.