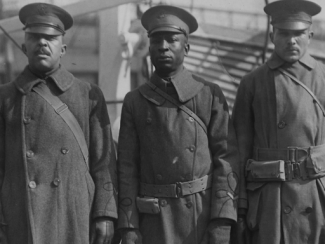 September 10, 2022
No matter the occasion, our people have been clinking glasses of cognac for centuries, but the reason is deeper than many realize.
References to the spirit appeared in early 2000s rap lyrics with hits like Busta Rhymes' "Pass The Courvoisier." At the same time, Hennessy began cementing its decades-long relationship.
Our love of cognac began when Black soldiers stationed in Southwest France were introduced to it during both world wars. On France's liberation day, farmers would give every soldier a bottle. 
The sweet sounds of jazz and blues swirled Parisian clubs alongside cognac and beloved performers like Josephine Baker. But there's another reason it won us over.
The soldiers were in Europe enjoying cognac and feeling freer than they ever had back home. Meanwhile, the US spirits industry was heavily marketing whiskey. Despite our pioneering whiskey-making, liquor companies popularized it by appealing to white nationalism, often using Black caricatures in their ads while brutalizing and lynching us in the streets.
Things weren't adding up for the soldiers who shed blood for a country that couldn't care less about them, so when they returned, they kept sipping cognac and passing it, generation after generation. 
Don't get it twisted, though! These corporations don't love us. We've always created the cool, so they exploit us and profit big. They need us–we've never needed them.