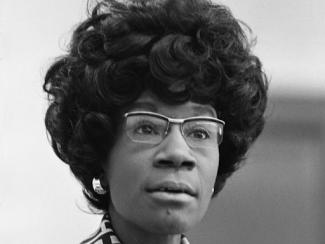 November 5, 2022
Though she's usually remembered for her historic Presidential run, there's much more to Shirley Chisholm's incredible story. Here are 5 things you might not have known about this unbought and unbossed dynamo.
#1: She was partially raised in Barbados
At age five, she went to the island to live with her grandmother, who instilled in her deep self-love: "Granny gave me strength, dignity, and love. I learned from an early age that I was somebody."
#2: She didn't intend to go into politics
Chisholm's first career was in education. But she saw how necessary it was for her district to have real support – so she ran for New York State Assembly, won, and started her political rise.
#3: She walked the walk
Her time in congress was about uplifting women and people of color – and she proved it by hiring an all-woman staff, half of whom were Black women.
#4: She built bridges across differences
Known for being "unbought and unbossed," she nevertheless visited openly racist congressman George Wallace in the hospital. Later, that relationship helped her pass a crucial minimum wage bill.
#5: The opposition to her presidential campaign was fierce

While campaigning for president in 1972, she faced opposition from all sides: Black men in her party, racist men AND women, war hawks upset with her anti-Vietnam stance, and voters concerned about "electability."
But her run was about sending a message. "I want history to remember me... as a [B]lack woman who… dared to be herself… as a catalyst for change in America."