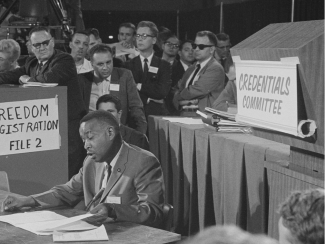 March 3, 2021
The members of the newly-formed Mississippi Freedom Democratic Party waited patiently. They'd asked to be seated as delegates at the National Democratic Convention, and the moment of reckoning was finally here. Would they be accepted? Rejected? Ignored?
The Democratic party in Mississippi refused to work with Black voters, so black organizers formed the Mississippi Freedom Democratic Party to work for our best political interests. 
Why did they refuse all these new Black voters in the first place, especially when it would have meant more people voting as Democrats?
The simple answer is racism. It had taken lots of blood, sweat, and tears to get to this moment – so what did the leaders of the National Democratic Convention decide?
The racist Democrats presented a compromise that granted The Party two NON-VOTING seats. This was a slap in the face! Of course they rejected this disrespectful offer. But the story wasn't over.
The Party continued to work and, the next year, the Voting Rights Act of 1965 was passed! Now Black voters were fully able to wield their power at the Democratic National Convention. 
The Mississippi Freedom Democratic Party proved that cooperation is a powerful tool – their work made the Voting Rights Act possible! We must remember that when we work together for our best interests we can accomplish true change.