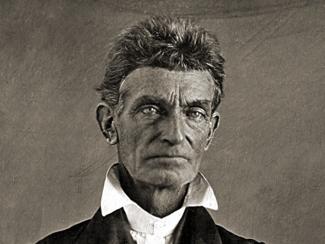 December 17, 2019
How do you fight against something so massive and terrible as chattel slavery? In 1859, it seemed insurmountable. 
To John Brown, a white abolitionist, the only answer was violent insurrection - and he was so devoted to Black liberation he'd sacrifice EVERYTHING.
He gathered all the weapons he could, armed some enslaved people, and planned the infamous raid on Harper's Ferry. 
Initially, the raid was successful! They cut the telegraph wires and stopped a train that was coming through town. They killed six men and captured an armory to get more weapons.
However, Brown was eventually captured by Robert E. Lee and a crew of U.S. Marines, but refused to surrender to save his life. Though his captors tried to keep him quiet, he was able to yell these final words:
"[T]he crimes of this guilty land will never be purged away; but with Blood!"
He was tried for treason and executed, and considered America's first terrorist.
In today's world, where bigotry is thinly veiled as nationalism, it is up to white people to end white supremacy. 
Until that day comes, we'll continue to fight for freedom and seek allies who possess the spirit of John Brown!