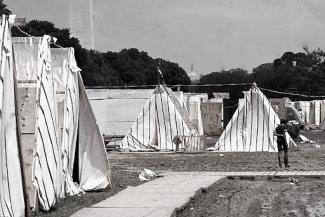 May 11, 2023
Martin Luther King, Jr. had many dreams, and one of his biggest was Black economic justice. Just before his assassination, he launched the Poor People's Campaign, an effort to bring this issue to the forefront.
After his death, King's comrades carried out his plans for Resurrection City – an audacious plan to force America to confront his demand for economic equality.
The demonstration brought nationwide attention to hunger, which helped launch over 1,000 food programs and revamped school lunches. They also pushed labor programs, school desegregation, and homeowner assistance into the national conversation.
Although Resurrection City wasn't the immediate success its organizers hoped for, it exemplified the tenacity we must have to mobilize for our liberation. Like King and the residents of Resurrection City, we can dream big to reimagine our realities and create the world we deserve to live in!